I can't believe a week has already passed!
So, Brett started feeling icky the night before our flight to Idaho. We hoped it was just something passing. The next morning we got up at 3, packed the Wonder Twins up, and headed to the airport. It was crazy how much stuff we took! Amazingly, I did good and really only packed the essentials (despite the fact that it took 5 check in bags and 2 carry ons)! We flew to Chicago, Salt Lake City, then Spokane. It was a long day. The twins did really well! They even got little certificates for their first time flying.
The next couple of days were preparation time for Brett. The twins and I did a lot of driving around and hanging out at the hotel. I enjoyed exploring the mountains... and the babies enjoyed sleeping. It was funny because I saw many firework stands out in the middle of nowhere and a coffee stand on every corner in town! I kept the babies on East Coast time. So, we woke at 5 and they went to bed at 4:30. This made the days fly by.
We wanted to give Daddy all the time he needed to prepare and rest up. It seemed like each day he started out feeling a bit better, but felt even worse as the afternoon approached. One morning I even went out at 2 a.m. to get Zycam, vitamin C, Cold FX, and Zinc. I just wanted him to get better before the race!
I told him I would understand if he backed out. It is a lot to expect a person to do an Iron Man with 3 month old twins... plus being sick! However, he was absolutely determined to do it. I tried to keep the twins and myself out of his way and give him the time to focus. I also packed some motivational pictures and notes from the twins and I in his race bags.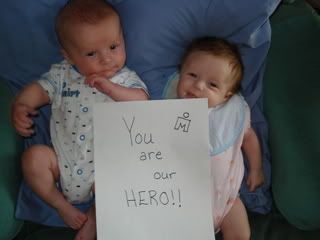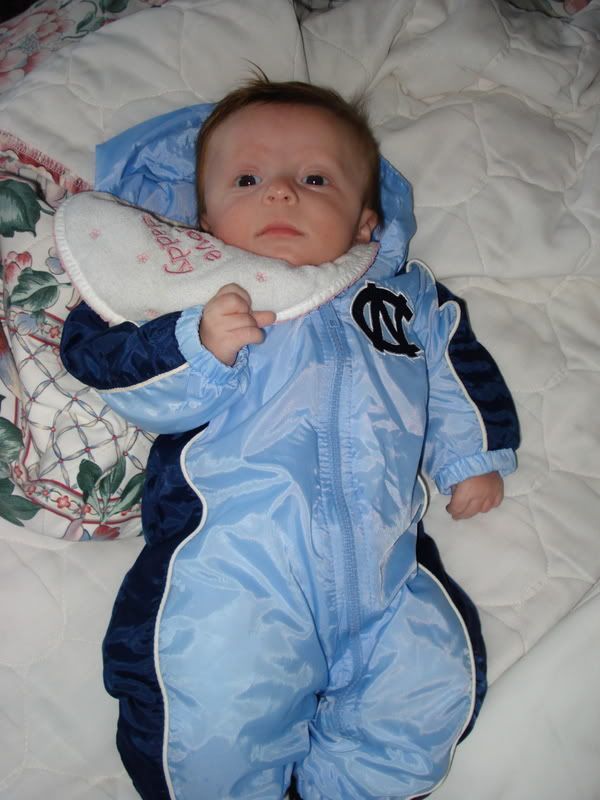 The morning of the race we all got up. It was so cold out! I had to put all the long sleeve clothes I had brought for the twins on. Then the twins and I put on the "Wonder Twins Power" shirts we had all gotten for father's day. Brett headed out with some other triathlon friends. I fed the kids and we headed out to try to meet up with Brett before he swam out.
It was so packed we parked over a mile away. I'm sure some people thought I must be crazy... I was sprinting down the sidewalk pushing the twins in the big double stoller... I was also wearing the only pants that somewhat fit that happen to be maternity (they are a big). Unfortunately, the elastic band doesn't make them stay up when jogging. So, I was hiking my pants up every once in awhile.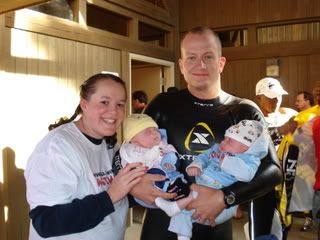 Anyway, we got there in time to see Brett. He came up to give us all a hug and kiss and get good luck wishes. I got all teary eyed thinking about how proud I was of him... he has come such a long way and has accomplished so much!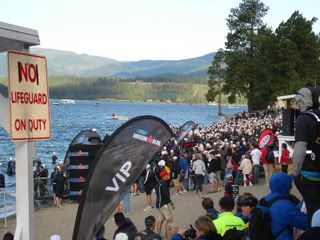 So, he headed off to join the other couple of thousand people ready to get in the water. The lake was so choppy they announced that people could do a duoathlon instead. I think this has never happened before.
The horn went off and everyone jumped in the water. It was crazy seeing all of those people jump in and start swimming. I can't imagine how tough that was... especially with the rough water!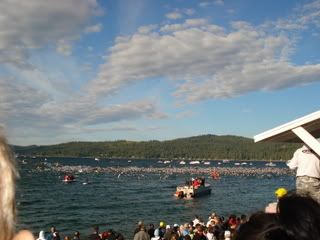 We waited at the bike mount to see Brett, but never did. We did see one of his good training friends, Nasrin. In fact, she is one who qualified for Kona in this race! We also met a nice local native, Don. He took a picture of us and posted it on his
blog
.
The twins eventually got tired of waiting. They both started crying. So, we went to a less busy area to feed them. You can't imagine the surprised looks I got sitting at a picnic table breast feeding one baby and bottle feeding another!
After they ate we headed back to the hotel. I was starving. So, I decided to stop at Mc D's. Though it was after 1 for me, it was just after 10 in Coeur D'Alene. So, I had to wait until after 10:30 for lunch type food. Luckily, the race was just about to pass on the block nearby. So, the twins and I hung out on the corner for a couple of hours (I did go back and grab a burger in the middle). There we met a nice man named Allen who was watching for his wife. We saw a few friends and BRETT!!!! I was so happy to see him and cheer him on!
Once he had passed we went back to the hotel. We went about our normal routine... I washed some bottles... played with babies... etc. At 4:30 I got them ready for bed and put them in their car seats to sleep. I kept track of the race on the computer throughout the evening. In addition, there were some friends on site calling me with updates. I added about a 4-4:30 marathon time to his bike finish. I figured that would get us there before he crossed the finish line. Around 6:00 we headed out to go to the finish line.
We were able to park much closer, but had a difficult time getting to the actual finish chute. There were so many people! Both babies immediately woke up. Bree just laid there and looked around. Zane cried until I held him in the sling(he is such a momma's boy!). Amongst the thousands of spectators I actually ran into Allen again. He insisted on finding a space where I could be noticed by Brett and able to see him when he passed. I am ever so grateful for this.
Around 7:54 I saw Brett coming down the chute. He looked good, but tired. I had Zane strapped on tight... and Bree in the stroller. We jumped out into the street and met Brett. He pushed the stroller and we ran down to the finish line... the WHOLE family crossed together. It was amazing!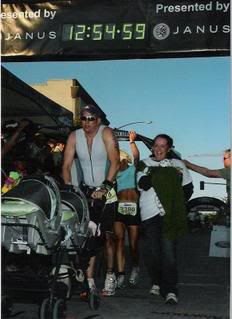 I will never forget that moment. I was so very proud of my husband. I couldn't stop smiling. He now holds a title that so very few have. I am now not only "Mommy to the Wonder Twins"... but also "Wife to an Iron Man"!